Truly Rich Club 101 : Stock Market Investing Made Easy w/ Bro. Bo Sanchez
[leadplayer_vid id="51ABC85697D2D"]
What is the Truly Rich Club?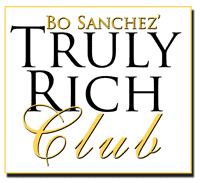 There is no one better to tell you than the founder himself, Bro. Bo Sanchez.
In this special one-on-one interview, I asked Bro. Bo about who the club is for and what it can do for ordinary folks like you and I. He happily addressed criticisms pointed at the Truly Rich Club.
» How theTruly Rich Club help you invest in the stock market without any financial background from any income level (Just ask Bo's maids)
» How employees can REALISTICALLY earn millions without going abroad or starting a business.
» How Overseas Filipinos (OFs) can start investing for their future and come home early.
» Why you should take the stock advice of Bro. Bo Sanchez, a preacher, SERIOUSLY.
» Stock picks are available freely everywhere, what makes Truly Rich Club different?
» Find out what made Bro Bo squirm and utter "This is a little difficult to mention but…" (his candidness was both surprising and refreshing)
It was a very enjoyable, insightful and candid talk. So feel free to join our conversation below.
To subscribe, just sign up using your e-mail address on the upper right-hand side of the page.
Please check out an in-depth review of the Stocks Update!